Categories:
Other Brands
Do you need a travel bag to style-up your outfit? Who can be your better companion than the Hermes Wallago Cabine Bag. This bag is practical, easy-to-carry and fashionable in all angles. It's Hermes but it doesn't scream Hermes at all. And there is just one mystery that we need to solve. Why is this bag called the Wallago?
Dictionary: Wallago is a catfhish that can be found in the rivers of Southern Asia.
Hmm…
The Design
The Wallago Cabine Bag is specifically made to help you transport your personal belongings from A to B. It's spacious, stylish and durable. It's also designed with a clever flap pocket on the front. The sides are flexible and expandable in case you need to carry a lot of things.
This is a very elegant bag and the exterior only is made with multiple pockets. Besides the front pocket, the back also features an extra zip pocket, which is hidden behind a leather patch – this will make sure that your most beloved essentials will be concealed and secured.
The bag also comes with a chic luggage tag hanging on the handles. And talking about handles, they're purposely made extra-long for hand carry or elbow carry.
What's more? It's made from Togo Calfskin, which feels luxurious and impeccable at the same time.
The Interior
There are two sizes of this handbag available. One is easier to carry due to its size, but there is also a bigger size available in case the medium is not big enough. The Wallago Cabine Bags are purposely made for travelling, so the interior is spacious enough for all your daily essentials and more. And besides, this handbag is a bit slouchy and the side-wings can be expanded to carry a lot more stuff.
The Sizes And Prices
Hermes Wallago Cabine 35 Bag
Size: 35 x 34 x 21 (L x H x D) cm
Prices: €5300 euro, £4870 GBP
Hermes Wallago Cabine 53 Bag
Size: 53 x 23 x 25 (L x H x D) cm
Prices: €6500 euro, £5970 GBP
More Colors And Images
comnum(0) tbcount(0) tbcount(128)
Categories:
Other Brands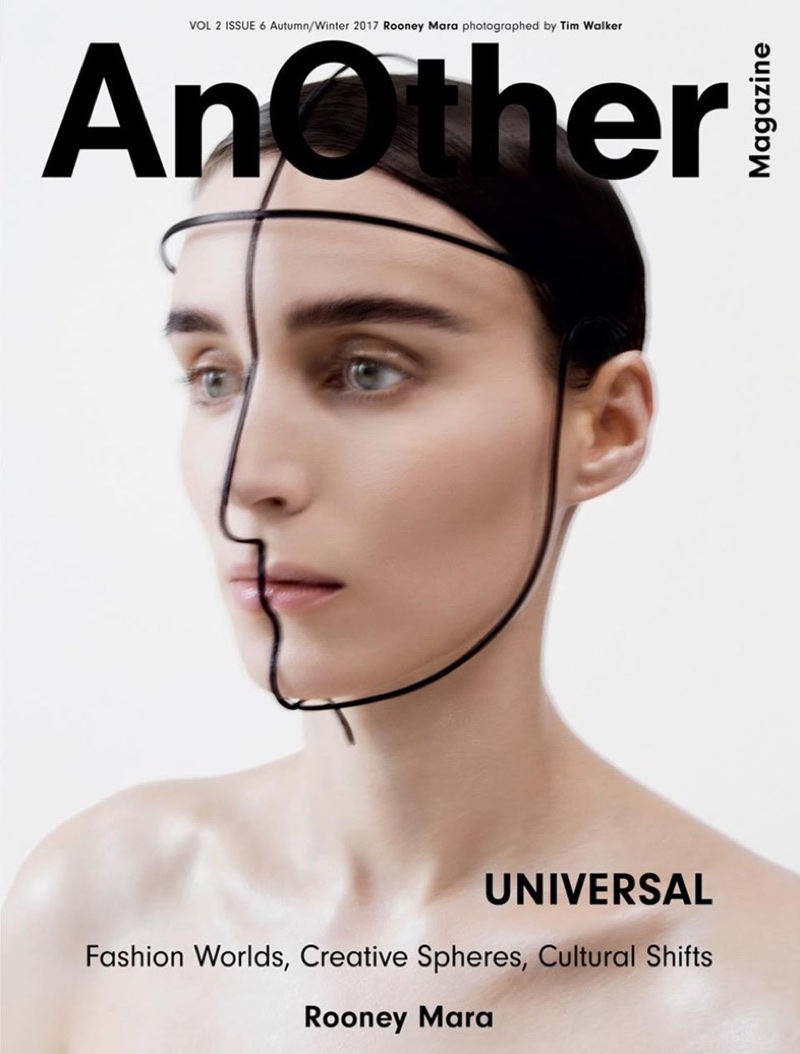 Rooney Mara on AnOther Magazine Fall/Winter 2017 Cover
Actress Rooney Mara looks ready for her closeup on the Fall-Winter 2017 cover of AnOther Magazine. Photographed by Tim Walker, the brunette wears an avant-garde mask for the shot. In the accompanying shoot, Rooney poses in fashion forward looks from the winter collections. Stylist Katie Shillingford selects a mix of lace coverups, voluminous coats and statement separates.
Related: Rooney Mara Stars in Vogue, Talks Sister Kate
COVER SHOOT: ROONEY MARA FOR ANOTHER MAGAZINE FALL/WINTER 2017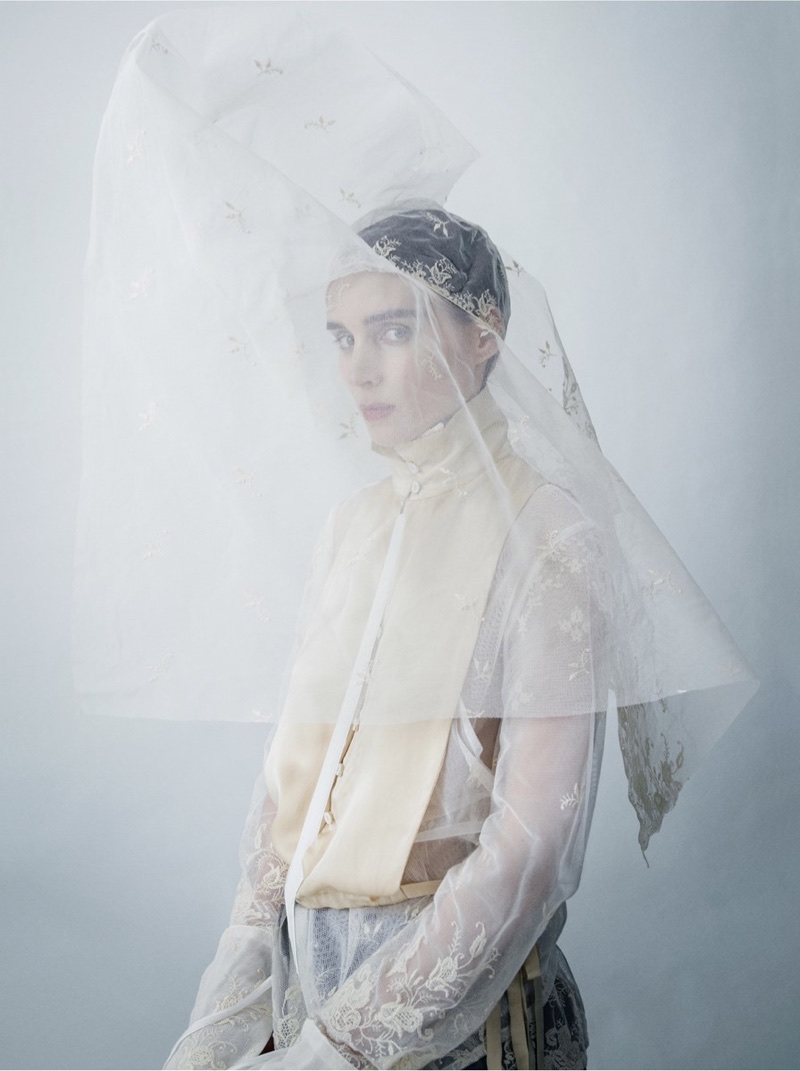 Rooney Mara dresses in an all-white look
ROONEY MARA ON HER ACTING ROLES
In her interview, Rooney talks about what draws her to specific roles she takes on.
"I definitely think the duality of vulnerability and toughness is something I'm drawn to because that could define me quite nicely. So maybe there's some sort of pattern. I don't go looking for those things but I'm drawn to them. I think a lot of actors are constantly unconsciously playing out that thing in themselves that they're trying to figure out."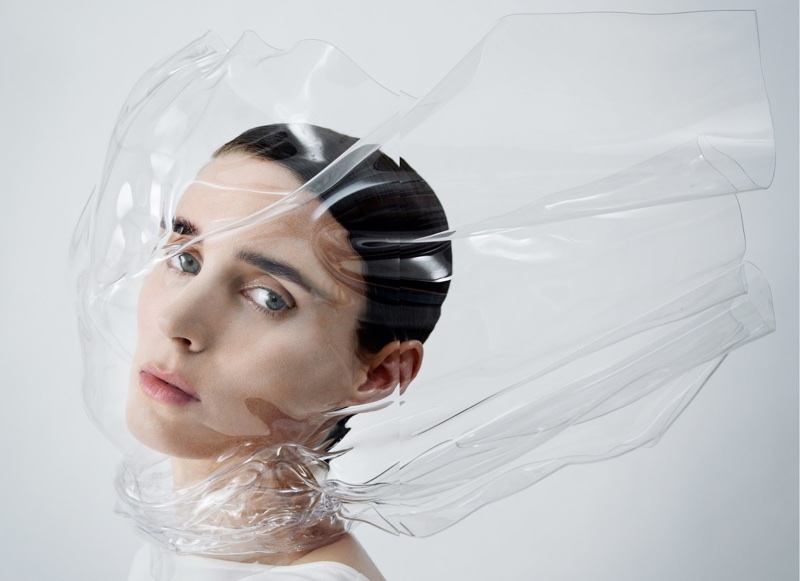 Getting her closeup, Rooney Mara wears sheer veil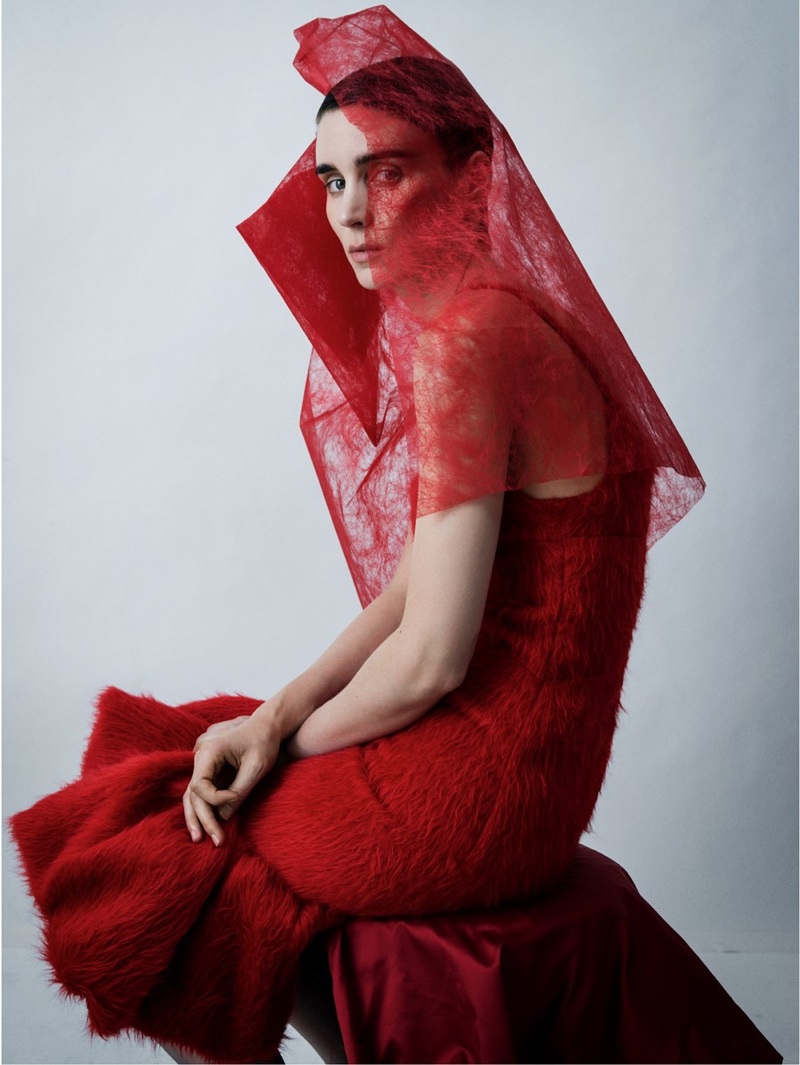 Actress Rooney Mara poses in red Prada dress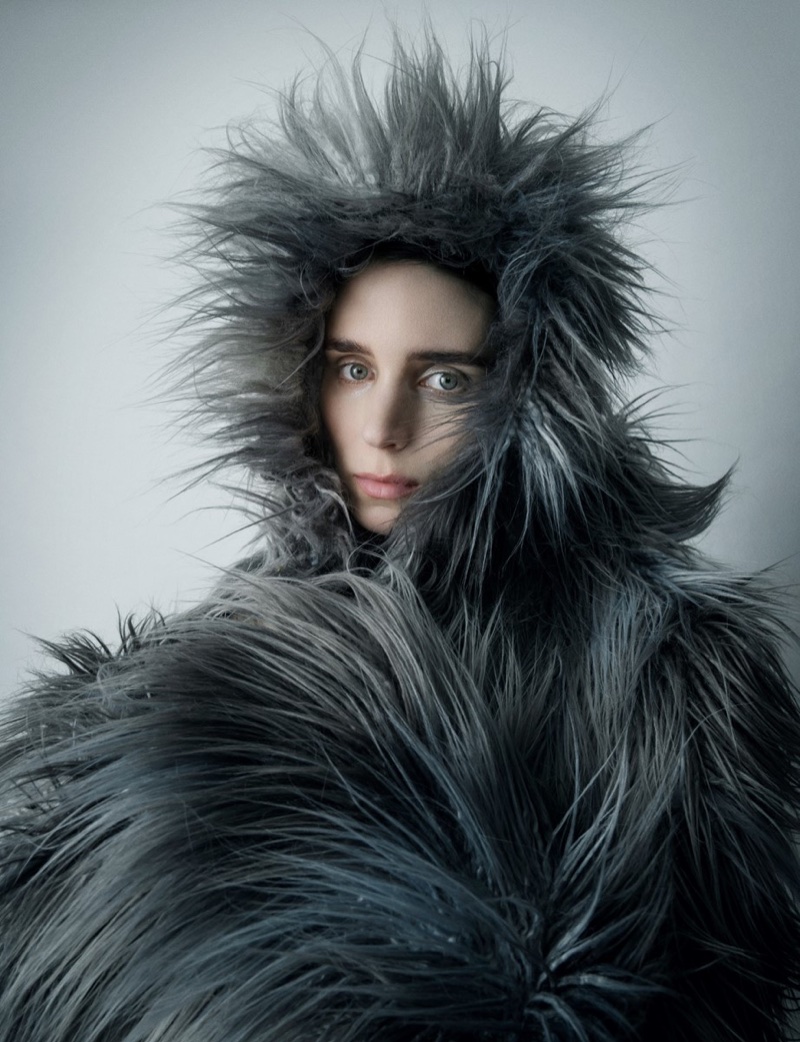 Covering up, Rooney Mara poses in fur coat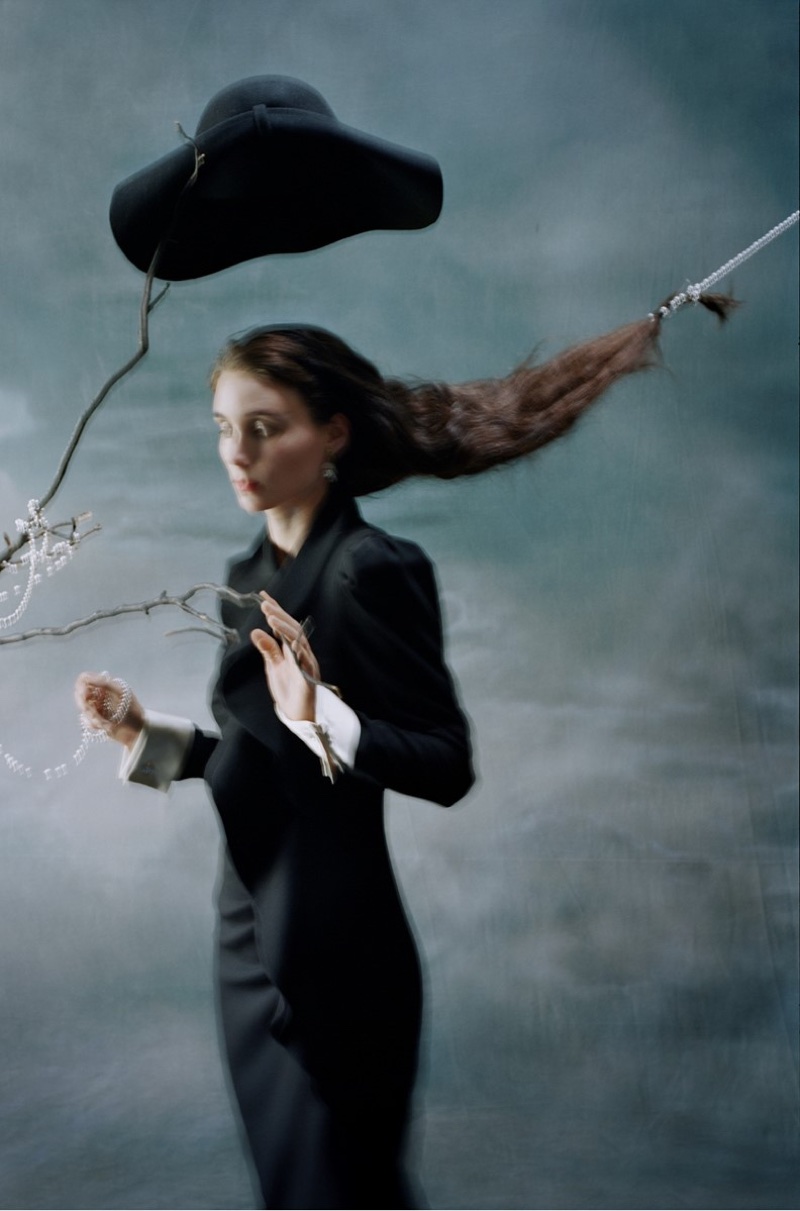 Dressed in black, Rooney Mara poses in this whimsical shot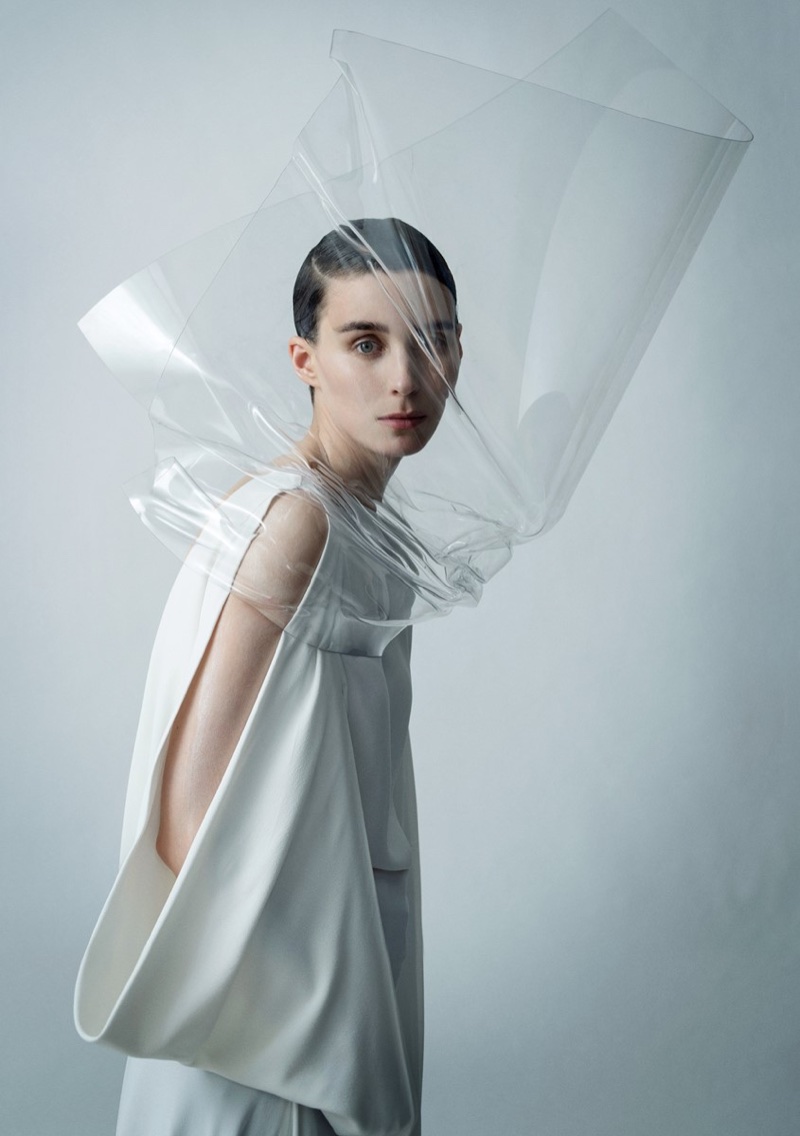 Rooney Mara wears sleeveless white dress
comnum(0) tbcount(0) tbcount(111)
Categories:
Other Brands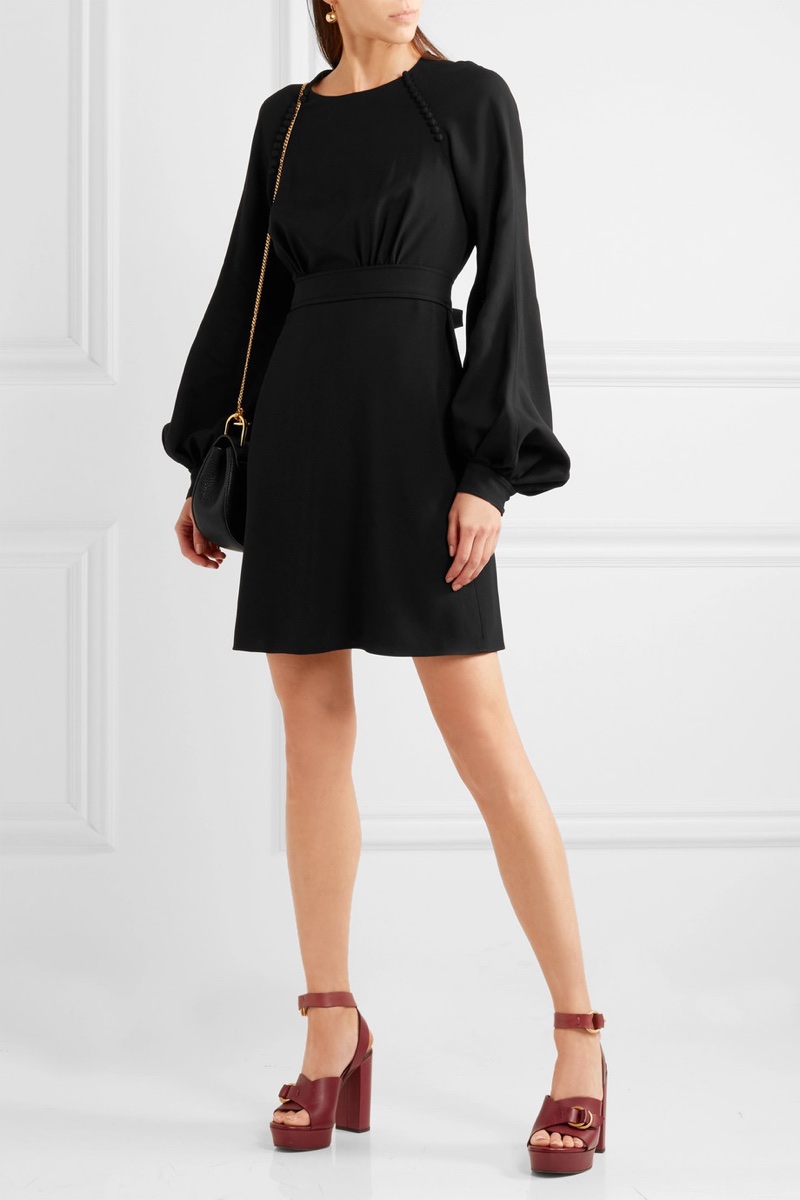 Chloé Crepe Mini Dress $1,155 (previously $1,650)
Channeling the 70's, this dress features voluminous sleeves with raglan seams.
Net-a-Porter's winter 2017 sale is getting even better. Items are now up to 70% off for a variety of categories. From dresses to bags to shoes to jewelry to lingerie and more; update your new season wardrobe. Leading labels such as Jimmy Choo, Dolce & Gabbana, Fendi and Chloé are a part of the major discounts. Check out a few of our favorites from the sale below, and see more at Net-a-Porter.com.
Related: Nordstrom Launches Half-Yearly Sale
NET-A-PORTER WINTER 2017 SALE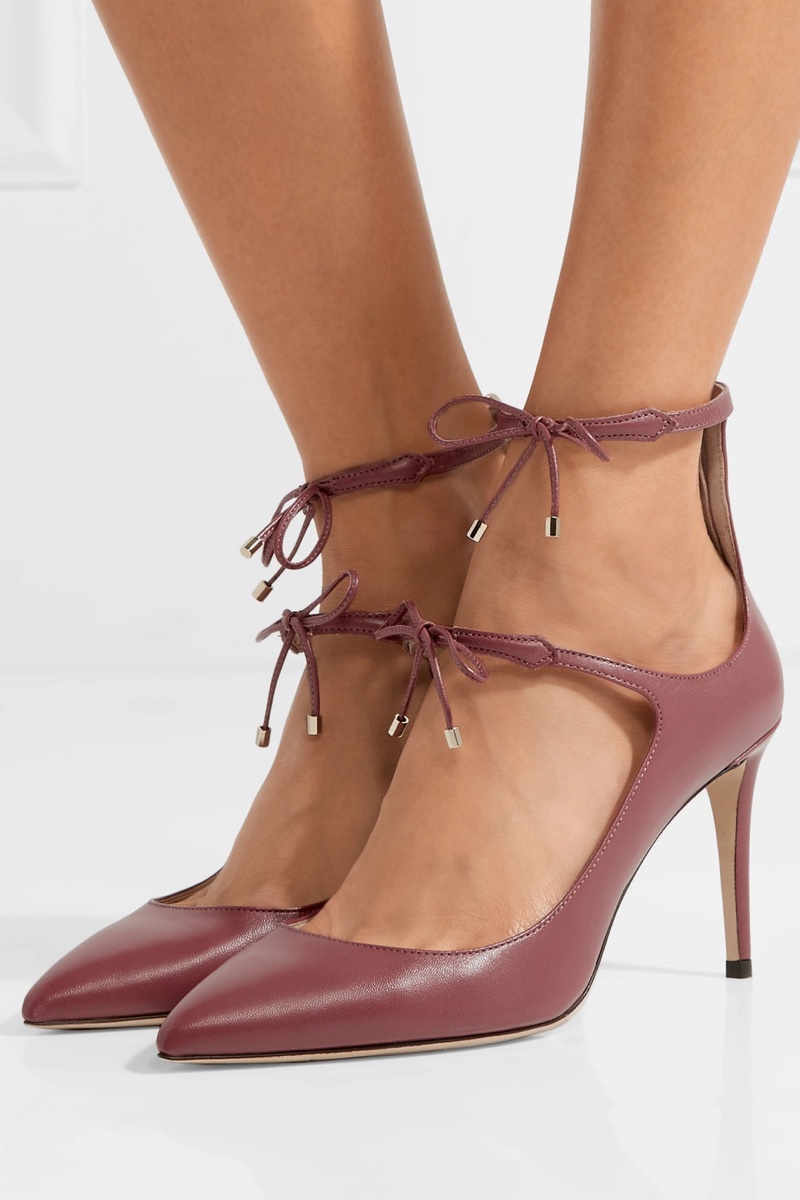 Jimmy Choo 'Sage 85' Bow-Embellished Leather Pumps $397.50 (previously $795)
Made from antique-rose, a leather pair of pumps include dainty bows and a zipper at the back.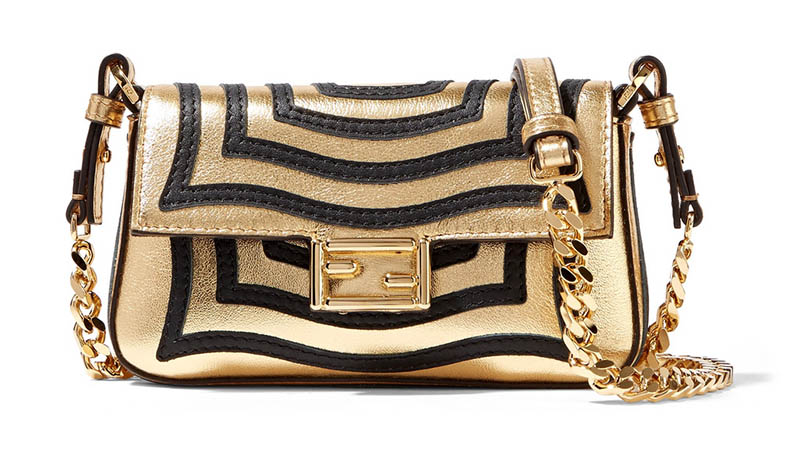 Fendi 'Baguette' Micro Appliquéd Gold Leather Shoulder Bag $1,190 (previously $1,700)
This gold bag comes in a gold textured leather with a wavy design. It can be worn as a cross-body or clutch.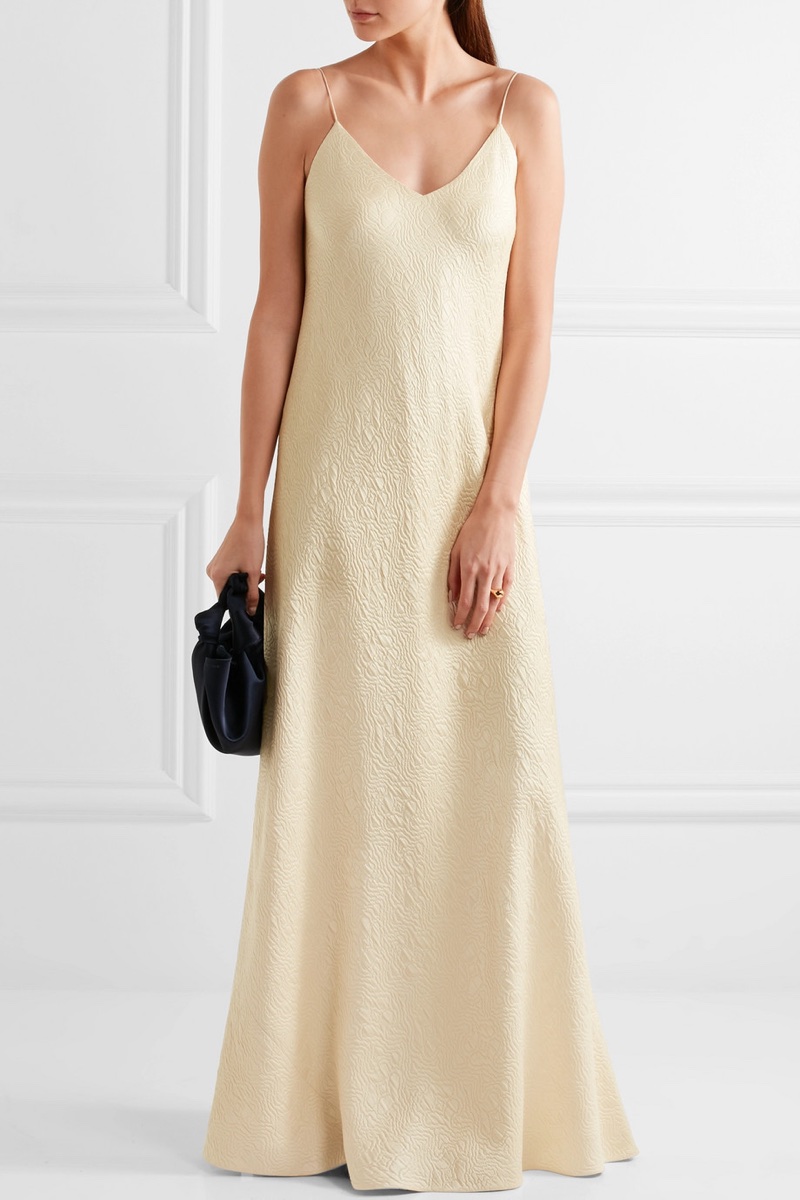 The Row 'Vera' Silk-Cloqué Gown $1,830 (previously $3,050)
A cream gown features a slip-dress silhouette made of soft silk-cloqué.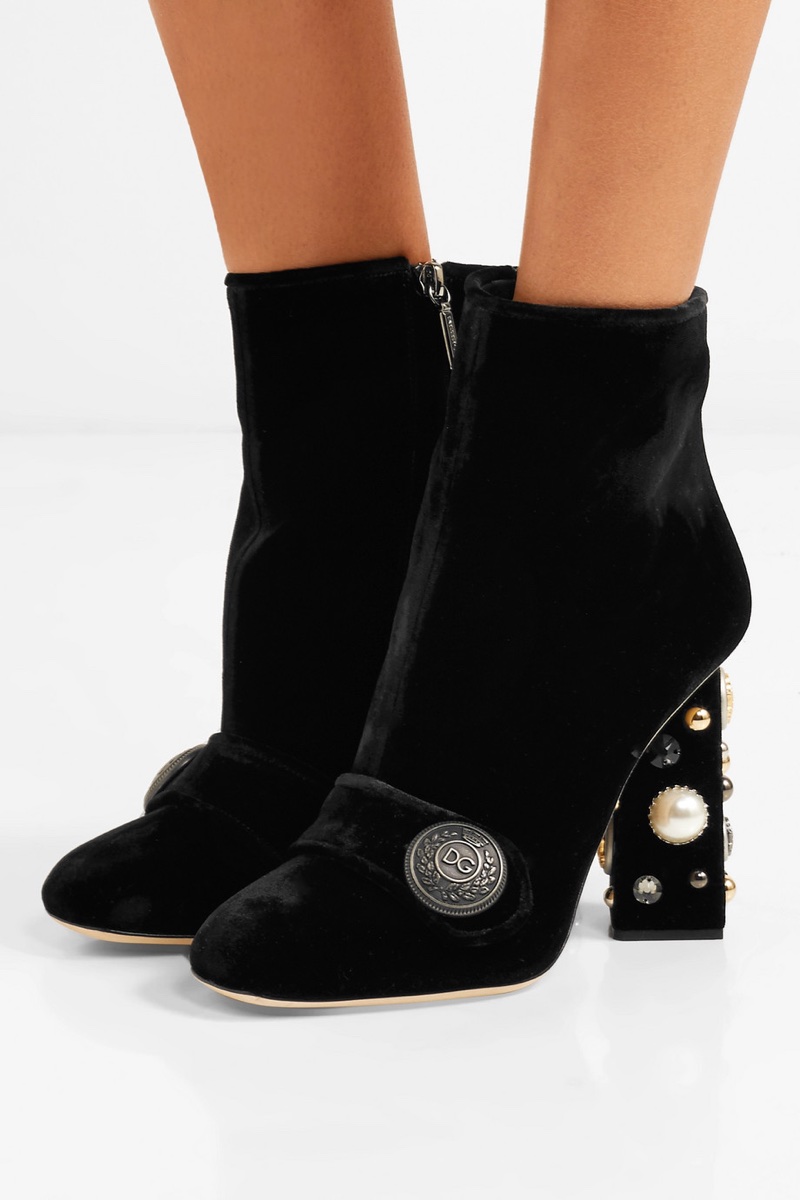 Dolce & Gabbana Embellished Velvet Ankle Boots $777 (previously $1,295)
These velvet ankle boots include faux pearls, crystals and heritage plaques.
comnum(0) tbcount(0) tbcount(134)
Categories:
Other Brands
Well, isn't Chanel getting more creative nowadays? For the Classic Wallets, there were only a few options and we've listed the best at Chanel Classic Wallet Guides. But this one is quite unique and above all – useful and practical. So introducing the Chanel Classic Flat Wallet Pouch from the Cruise 2018 Collection, and now the next question is; is this a wallet or a pouch? Why not both?
The Design
I love the look of this Wallet Pouch because it resembles to the handbags and wallets in the Classic Collection. This bag is made for multi-use and you will absolutely love it. The body of this Wallet Pouch is made in diamond quilted and lambskin, but there might be more leather choices available at the boutiques.
The front features the iconic smooth logo, the same you will find on the Classic Quilted WOC. The front is also crafted with an exterior patch pocket; you might be able to fit your smartphone inside like your iPhone or Samsung Phone.
The back is as beautiful as the front and also very useful. First it's also diamond quilted, but it comes with four card slots to carry your debit card, credit card or membership cards, and business cards?
What makes this Wallet Pouch so fabulous is that it's designed exactly like the classics and it looks timeless. And it's actually a wallet and a pouch in one. There is a zip on the side to get access to the interior; the back is made to hold your cards. The front is to store your iPhone, which you can it's also a Phone holder/pouch. If you carry this Wallet Pouch hand, wouldn't it look stunning?
The Interior
On the side of this Wallet Pouch, you can find a zipper. Zip it to get into the interior. Inside you can store your coins or paper cash and other mini necessities to help you get going.
The Sizes And Prices
Style code A84402, measuring 7.3' x 4.3' x 0.8' inches, priced at $650 USD, $825 CAD, €590 euro, £540 GBP, $990 SGD, $5100 HKD, 3120 MYR, ¥77760 JPY via Chanel boutiques.
Also available in caviar and in other colors.
More Images
comnum(0) tbcount(0) tbcount(134)
Categories:
Other Brands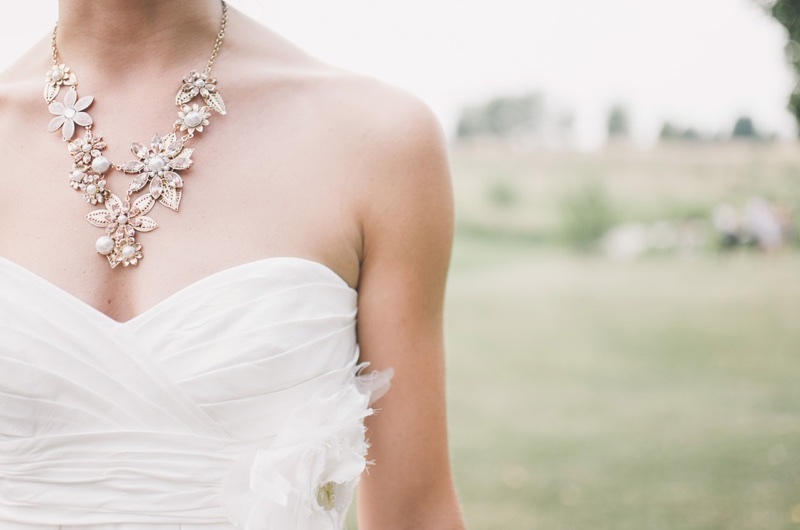 Photo: Pixabay
You've just finished buying more bulk candy for weddingreception guests than you've ever imagined possible and you're finally done looking for the perfect bridesmaid dress for your gal pals.
So, it's time to finally start thinking about you now that you've taken care of everyone else involved in your wedding. As a bride, you're going to be the center of attention on your big day so you need to look absolutely amazing. That's why these beauty tips are so poignant for all future brides.
Instead of worrying about making fatal beauty mistakes before and during your special day, you're better off learning tips and tricks that will help you look absolutely stunning at all times during your wedding ceremony and reception.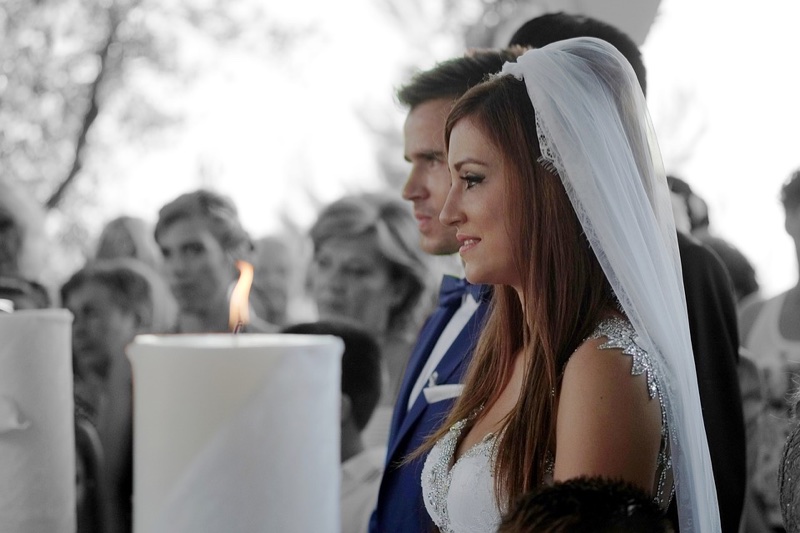 Photo: Pixabay
1. DO A MAKEUP TRIAL RUN
This may seem like you're going a bit overboard, and this is especially true if you intend to hire a professional to do your makeup, but it's definitely worth it to take this step all the same. By doing a trial run, you'll be able to create the look that you want your makeup to have before the wedding and reception, and you'll know whether or not you're happy with certain makeup choices.
As an example, maybe you'd like to wear a particular eyeshadow that you've never put on before. Then you put it on and find out that you think it's too dark. By doing this trial run ahead of time, you'll be able to pick out the makeup and colors you plan to wear on your wedding day, and this will solve your problem ahead of time instead of having to scramble on the morning of your wedding, which is a scenario you'd obviously rather avoid at all costs.
2. MAKE SURE THE RIGHT COLORS ARE AVAILABLE IN YOUR TOUCH UP KIT
This is especially important if you plan to use a makeup artist to do your makeup before getting married. Ask them about the colors that they used if you don't know what they are using already. In fact, you could always ask your makeup pro to give you extra eyeshadow, lip gloss, and lipstick and add it to your touch up kit.
Some makeup artists will have no problem giving this to you, and others might not want to do so. The only way you're ever going to find out is if you check with them at the time, so remember to ask because you want to look absolutely amazing all throughout your big day.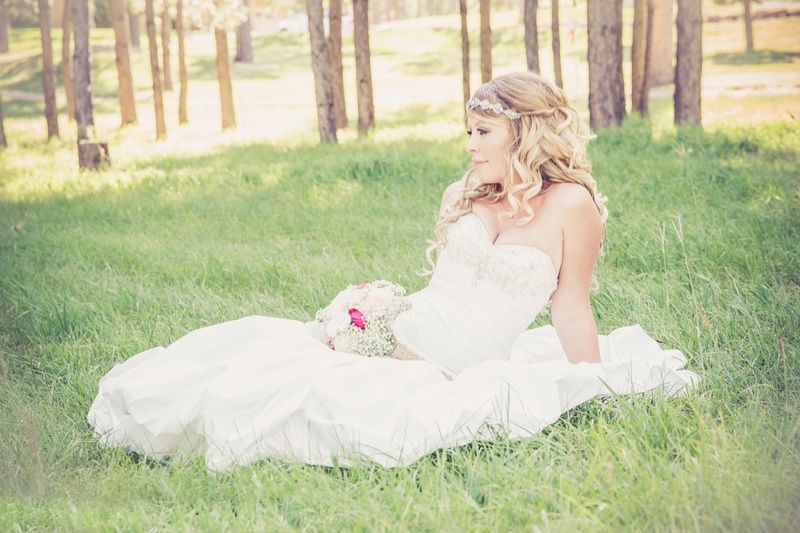 Photo: Pixabay
3. HIRE A MAKEUP PROFESSIONAL
You're going to have so much happening on your wedding day that you're not going to want to do your makeup yourself. Hire a professional makeup artist and you'll have this aspect of your look already taken care of and it'll be one less burden that you have to carry as your big day approaches.
Before the wedding, ask the makeup artist to go through a trial run with you. By going through a trial run, you'll know exactly how you're going to look, you'll be able to learn which makeups and colors the artist is going to use and you'll have everything taken care of well in advance of your big day.
By approaching makeup this way, not only will you feel 100% satisfied with the way you look before your wedding due to the trial run, you'll also know that an expert makeup artist is handling this important task for you, so the burden is no longer going to be on your shoulders. You'll feel great knowing that a true professional is ready to help.
CONCLUSION
Preparing ahead is the best way to ensure you look absolutely stunning on your wedding day. If you're still not satisfied with your appearance, contact Julio Garcia MD Cosmetic & Plastic Surgery Clinic or a different clinic in your community to see if there's anything they can do to help you look and feel your best on your fairytale wedding day.
comnum(0) tbcount(0) tbcount(104)
Categories:
Other Brands
Liu Wen looks elegant in monochrome for the January 2018, 30th Anniversary cover of ELLE China. The Chinese stunner poses in a black and white cardigan and pants from Chanel with a belt also from the French brand. Inside the magazine, Liu embraces elegant pieces for the fashion editorial. Photographed by Mei Yuangui, the 29-year-old poses in a mix of tweed jackets, knit sweaters and tailored trousers.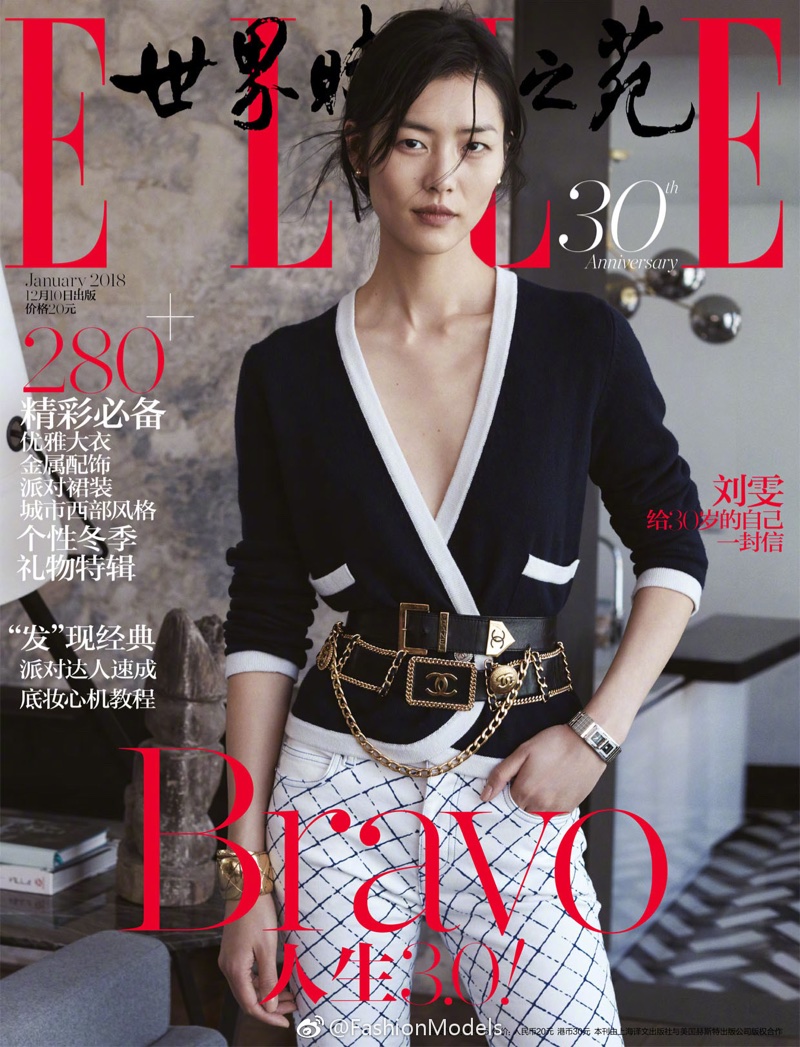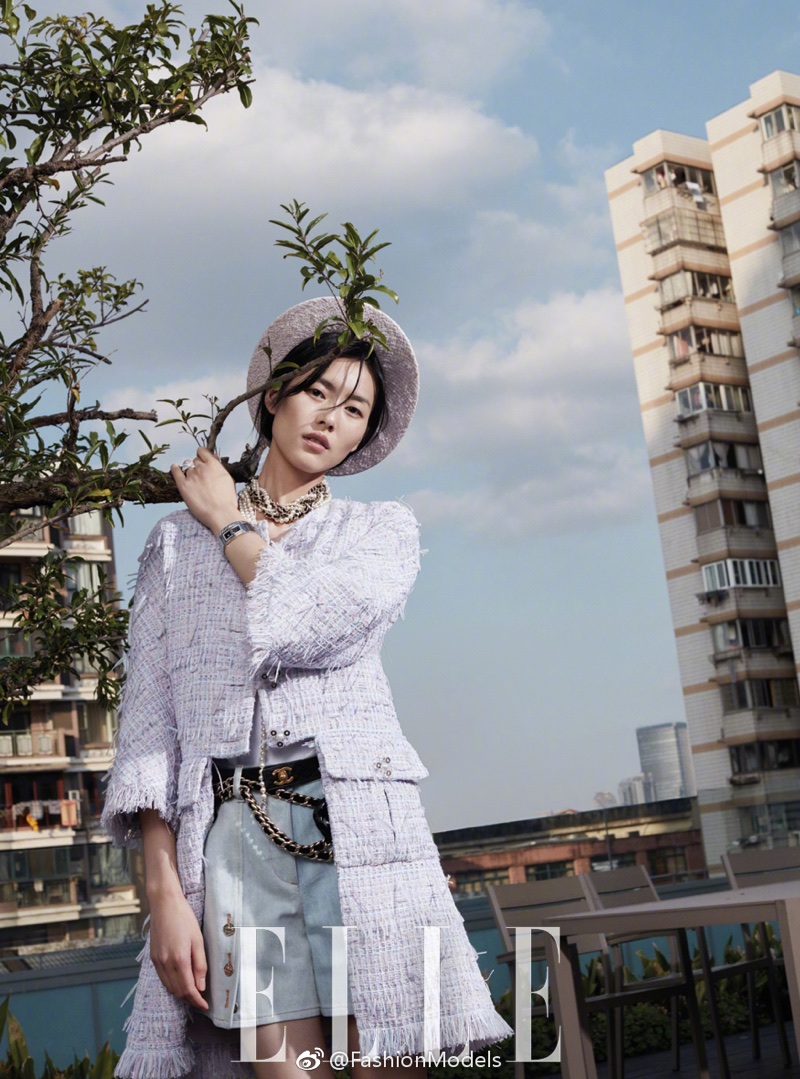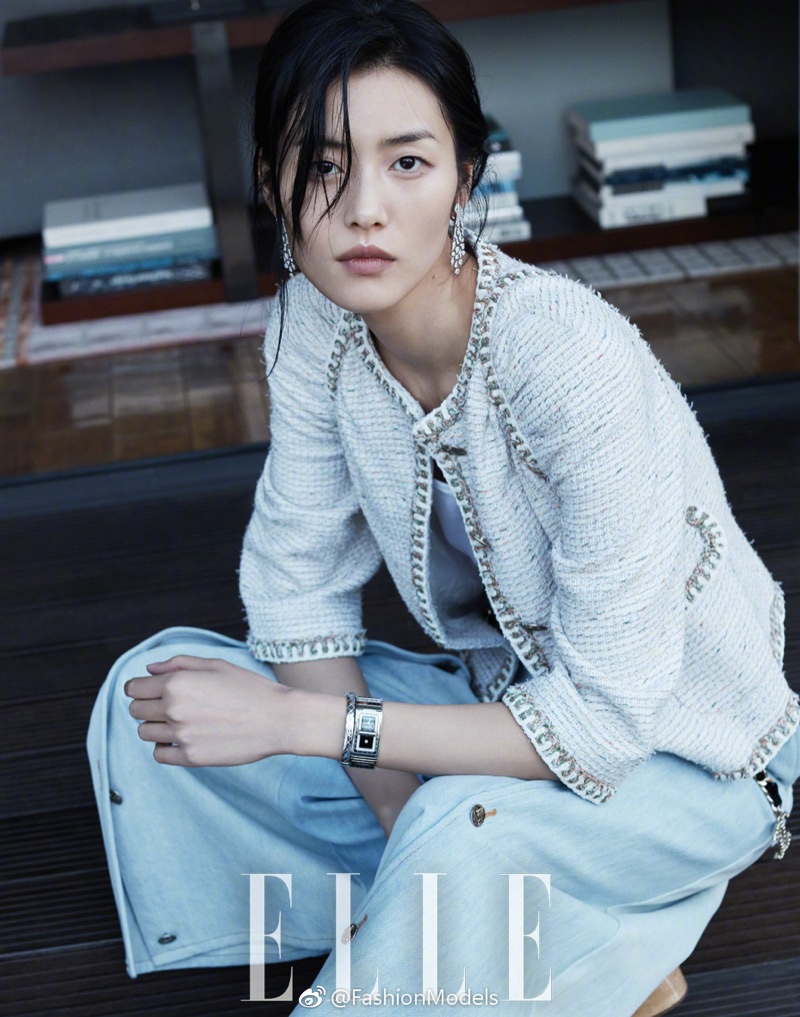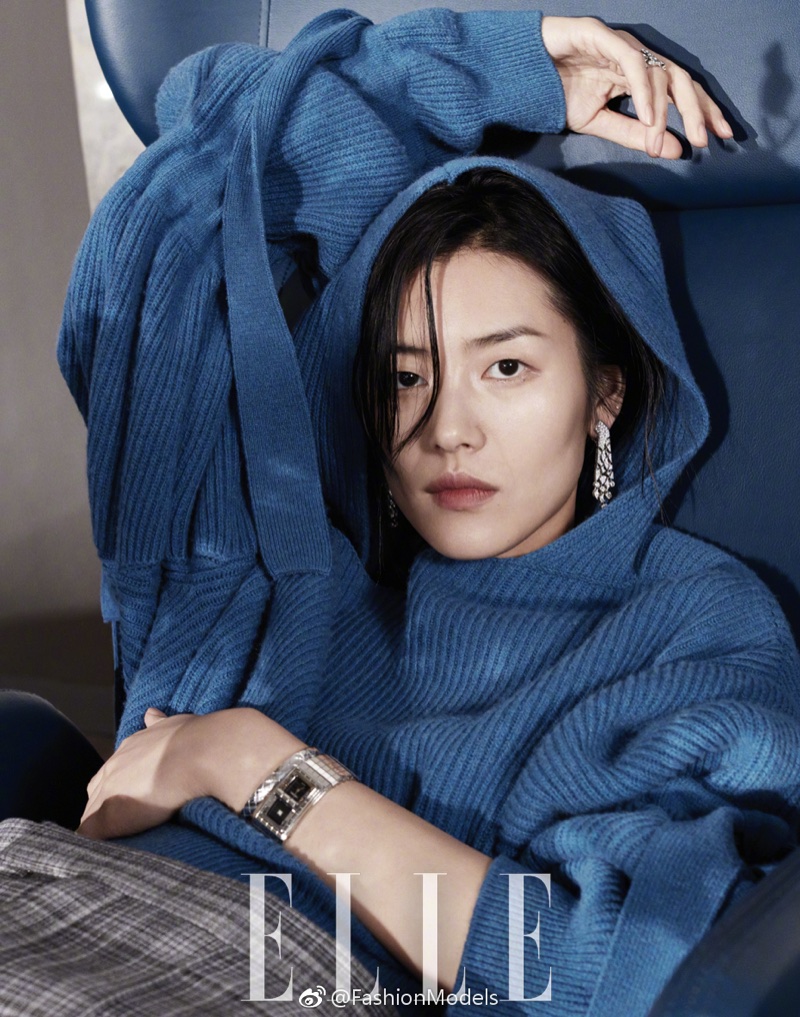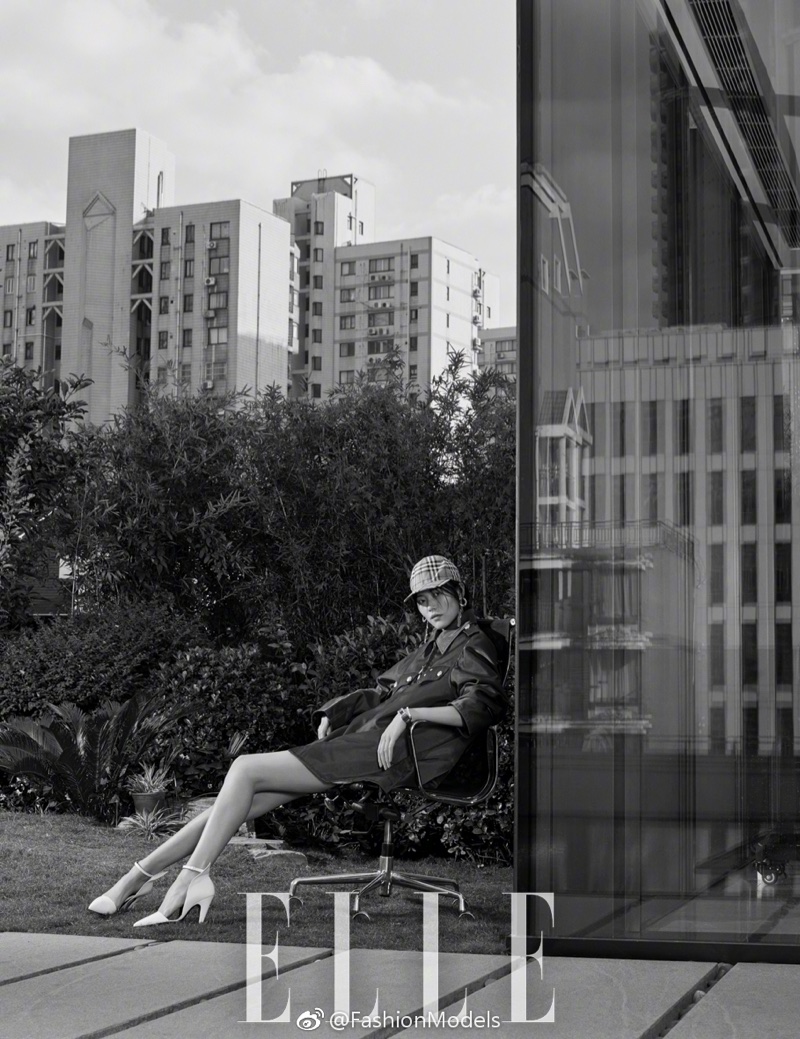 Categories

New Posts

Hot Posts

Tag Cloud