Categories:
Fashion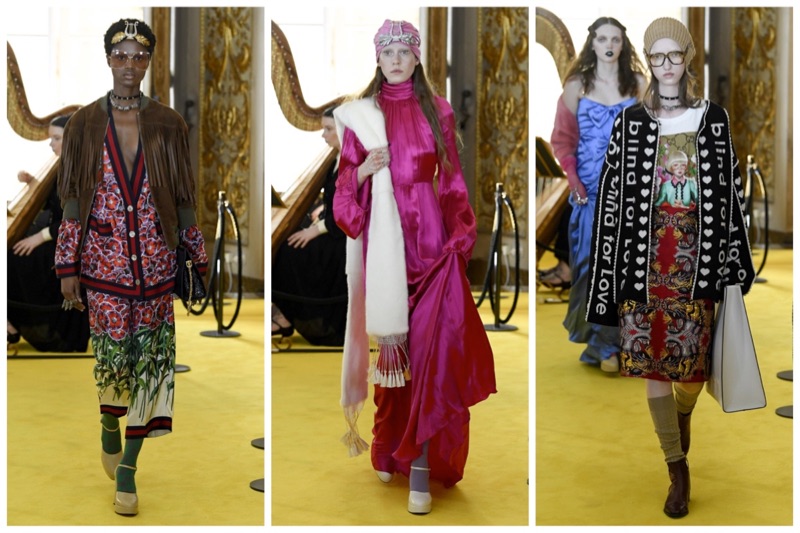 Gucci presents its resort 2018 collection in Florence
Gucci showcased its resort 2018 collection in Florence, Italy. Creative director Alessandro Michele found inspiration in the Renaissance for the new season. Michele also brought rock and roll vibes to the season with leather jackets, denim and fringe. Resort focused on long and sweeping gowns, metallic pantsuits and embroidered jackets. Michele's eclectic aesthetic saw silhouettes that borrowed from different eras.
From an 80's inspired bomber jacket to mutton chop sleeves, the colorful designs are opulent luxe. The color palette features rich emerald, fuchsia, sapphire red, powder pink and lilac purple. Floral patterns, plaid, stripes and natural scenes decorate the looks. For accessories, the Gucci woman wears scarves, embellished headbands, beaded sunglasses and turbans.
Tags: replica Gucci Tote Saint Laurent Shopper
comnum(0) tbcount(0) tbcount(209)
Categories:
Other Brands
Introducing the Hermes Verrou Bag. First created in 1938, the Verrou was originally designed by Robert Dumas as a clutch bag. The bag features a bolt lock which was inspired by the closure of horse stalls. It was released again in 2010, and this 2017 the brand included it in their Spring/Summer 2017 Collection. This year, the Verrou comes in three styles, Shoulder Bag, Chaine Mini, and Pochette. The bag is available in different materials such as Epsom, Doblis Calfskin, Mysore Goatskin, Ostrich and Mississippiensis Alligator.
Style, Price & Size
| Style | Price | Size |
| --- | --- | --- |
| Hermes Epsom Verrou Shoulder Bag | $8,300.00 (USD) | 8.3″ x 6.3″ x 1.6″ |
| Hermes Mysore Goatskin Verrou Chaine Bag | $8,000.00 (USD) | 7″ x 5″ 2″ |
| Hermes Doblis Calfskin Verrou Chaine Bag | $9,050.00 (USD) | |
| Hermes Mississippiensis Alligator Verrou Chaine Bag | TBD | |
| Hermes Verrou Pochette Bag | TBD | 11.4″ x 5.1″ x 1.2″ |
Gallery
Tags: bag Gucci Hermes Tote Soft Jackie VERROU
comnum(0) tbcount(0) tbcount(436)
Categories:
Other Brands
If you think you can't have the best of both worlds think again for this recent collaboration between high-fashion brand Alexander McQueen and Globe Trotter which is a high street brand making luggage and carry-ons are giving you only the best and a cut above the rest when it comes to a utility case and a trolley.
We are definitely talking about the 13" inch mini utility case and 21" inch trolley brought about by this awesome collaboration. Both of the Alexander McQueen X Globe-Trotter 13" Mini Utility Case and the Alexander McQueen X Globe-Trotter 21" Trolley Case are products of great British craftsmanship.
Both creations were created with the use of vulcanized fiberboard with leather corners, making them durable and heavy-duty yet amazingly lightweight and functional at the same time. Alexander McQueen on the other hand has added its magic by introducing silver studs and riveting as an over-all decoration. And oh, the skull padlock definitely caught our attention as well as the case lining in skull print!
The Alexander McQueen X Globe-Trotter 13" Mini Utility Case is measured 32 x 24 x 12 cm (W x H x D), priced €1165 euro or $1415 USD while the Alexander McQueen X Globe-Trotter 21" Trolley Case is measured 54 x 38 x 18 (W x H x D) cm, priced €2730 euro or $3295 USD, available via Alexander McQueen e-store.
Tags: bag Gucci Flap Soft Jackie
comnum(0) tbcount(0) tbcount(229)
Categories:
Fashion
Gemma Ward on Marfa Journal #5 Cover
Gemma Ward gets a new look for the latest cover story of Marfa Journal. The Australian model rocks a 1980s inspired, curly hairstyle in a spread photographed by Sean & Seng. Gemma goes from sex kitten to womanly elegance in looks selected by stylist Tamara Rothstein. In the editorial, Gemma wears designs from the likes of Louis Vuitton, Miu Miu and Vetements. Hair stylist Franco Argento creates her golden curls while makeup artist Giorgia Pambianchi gives her a natural radiance.
GEMMA WARD – MARFA JOURNAL
Sitting on a stool, Gemma wears a Miu Miu blouse with aviator sunglasses
Gemma Ward wears a Louis Vuitton leather vest, puffy blouse and black trousers
Gemma Ward flaunts her legs in Vetements thigh-high boots
Gemma Ward models a boxy Loewe jacket with a bird illustrations
Flaunting her curves, Gemma wears a striped bodysuit
Gemma Ward models blonde curls in the fashion editorial
GEMMA WARD – FREE PEOPLE SPRING 2016 CATALOG
Gemma Ward stars in Free People's March 2016 catalog
In addition to appearing on the cover of Marfa Journal, Gemma Ward also appeared in Free People's March 2016 catalog photographed by Greg Kadel. The blonde beauty posed in Australia's outback wearing dreamy dresses and separates from the bohemian fashion brand.
Gemma Ward wears Free People Lark maxi dress
Tags: bag Gucci Python Embroidered DIONYSUS Snake
comnum(0) tbcount(0) tbcount(194)
Categories:
Other Brands
There are no Inewstore.nl reviews on Spotbags but I'm going to fix this by posting this Saint Laurent replica review! I also thought it would be interesting to do a comparison between the pink YSL tassel bag replica, a pink Sac de Jour Nano and the Saint Laurent Baby Sac De Jour review that's already on the blog.
This site has some really cheap replica bags but there's more I want to discuss both about the site and the fake YSL bag, so stick around!
Inewstore.nl Reviews
It's enough to do a quick Google search to see that they promote their replica bags as cheap. And cheap they are! What I like about this site:
-they use their own photos, so you know what to expect;
-their return policy is honest. You can't return a bag or any other item unless it is damaged, it's the wrong size, the wrong item or it's defective. Given the fact that their replica bags are so cheap, it would have been unlikely for them to accept returns for any other reasons. If so, the shipping would cost them more than the bag itself, so it's not profitable;
-their bags have different price ranges but even their most expensive ones are still cheap compared to other replica sites.
But as I always say, the low price comes at a cost. And this Saint Laurent replica Cassandre tassel bag is no exception.
The girl who shared these photos with me didn't also share her Inewstore review unfortunately, she just wanted to hear my opinion. But this YSL tassel bag replica confirmed what I was already thinking about this site, so I don't think that any other Inewstore.nl reviews could change my opinion.
First of all, I wouldn't recommend you to buy your replica bags from a site that sells so many other products. They also have clothing, jeans and accessories which is actually bad if you're looking for high-quality replica handbags. This means they are not specialized in replica bags and their business policy seems to be "quantity over quality" instead of "quality over quantity". The more the merrier doesn't really apply to replica bags. Just because there's a lot to choose from, it doesn't mean the quality is also good.
Saint Laurent Replica Cassandre Tassel Bag Review
First things first. Let's start with the color! Unfortunately the color of this Saint Laurent replica is quite different from the original. There's a monogram YSL clutch bag in a similar color that is called Rose Claire but I don't think the Saint Laurent Cassandre bag was ever made in this particular shade of pink. Still, Monogram Saint Laurent bags and clutches come in many different shades of pink, so I'd say this is a flaw that could be overlooked.
Things would be different with the Sac de Jour Nano in baby pink because Kylie Jenner made that bag so famous and popular that everyone wanted the exact same color. Check out this Saint Laurent replica Sac De Jour review and you'll understand better what I'm talking about. If you want to buy a copy of an extremely popular bag like this, you need to get a really good replica. Because people will recognize it and even the less experienced will be able to tell how to spot a fake YSL bag as popular as that.
Now that I look back and think about this Saint Laurent baby Sac de Jour review, I realize how good it was compared to this Saint Laurent replica bag. The details ruined the authentic look of that bag but it definitely wasn't an obvious fake. But I'm sorry to say things are different with this YSL tassel bag replica, you really don't need to read a how to spot a fake YSL bag guide to tell it's a replica.
Still, I'm going to give you a few hints to those who are new to the replica world and don't have much experience with replica bags:
– Poor hardware engraving
– Wrong material used for the lining, it should be made of suede and the way the interior is organized is completely wrong too. I don't get what's with all those card slots and that zipper pocket. Inside there should be only one leather slip pocket with a logo leather tag. I know there is no Saint Laurent Universite bag review on the blog but here's a helpful tip: the interior of the Monogram Saint Laurent Universite bag is actually very similar. It should also be lined with suede and feature a leather slip pocket. Saint Laurent doesn't really risk and innovate a lot when it comes to the design of their bags.
– The inside stamp placed on the interior of the flap is also completely wrong. The logo should be right under the magnetic snap and it should say "Saint Laurent Paris" in regular font, not in Italic. This must be one of the worst inside stamps I've ever seen in a replica of this YSL bag.
– Sloppy and uneven stitching noticeable on the front flap.
– The color and the overall cheap aspect of the hardware is also a giveaway and so is the tassel because it doesn't have enough chains.
Someone asked me if I could write an YSL Cabas monogram review a while ago but unfortunately I don't have any pictures. So if anyone is willing to send me some photos, I am willing to write a how to spot a fake YSL bag guide for that Saint Laurent replica style too.
Even though this Saint Laurent replica is obviously not a very good one, I feel like being very critical of it wouldn't be fair. The price was more than affordable, the photos are real and the return policy states clearly that you can't return a bag just because you don't like it, so judging them seems a bit unfair. Do you girls have any more Inewstore.nl reviews you'd like to share? I'd also love to see a Saint Laurent Universite bag review!
Which of these three pink Saint Laurent replica bags is your favorite? The Cassandre Tassel bag, the baby Sac De Jour or the replica Sac de Jour Nano?
Tags: bag Gucci Top Handle DIONYSUS
comnum(0) tbcount(0) tbcount(189)
Categories:
Other Brands
The Alexander McQueen Knuckle box clutches are expensive toys, but for a reason. You see, they are refined from the front to the back and left to the right, to the tiniest details. It's a clutch that will make you standout in every party and every night. This bag will also blend like cookies and tea with your wedding dress, I mean, at the end, isn't your bag that makes it all perfect?
The iconic knucklebox is the idea of Alexander McQueen, if you've seen it in another brand, it's a copy. Each knuckle is finished with a unique jewel, and of course, that includes a skull and rhinestones. But the knucklebox serve a purpose – slide you fingers into it and feel how easy you can transport a clutch, it's literally effortless.
But I am very picky when it comes to colors, I like my Alexander Mcqueen Knucklebox Clutch in light and soft colors, it's just too beautiful to use it for the regular event. Pair it with a white evening dress, then match them with your favorite pumps. The silk, that has been inserted on the front and the back, feels luxurious and amazing. It's finalized with gold metal hardware and the flower patterns feel like its spring again.
Measuring 8 x 23 x 5 in cm (H x W x D)
Categories

New Posts

Hot Posts

Tag Cloud