Categories:
Fashion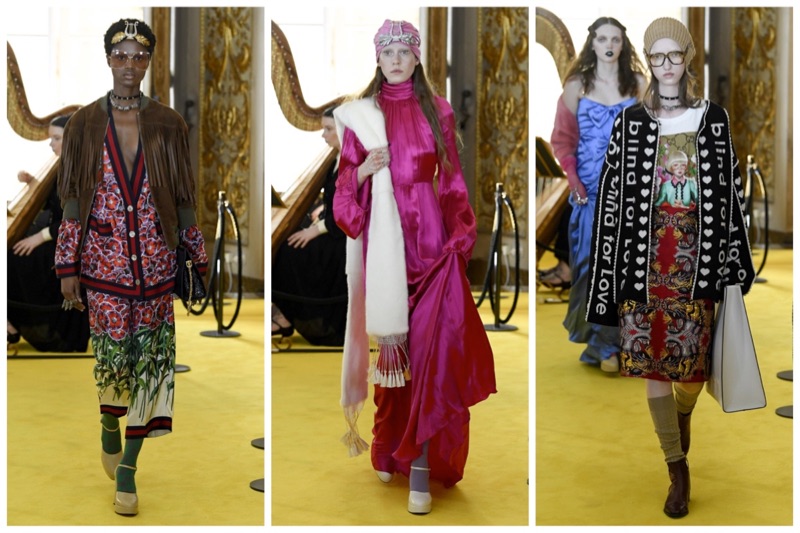 Gucci presents its resort 2018 collection in Florence
Gucci showcased its resort 2018 collection in Florence, Italy. Creative director Alessandro Michele found inspiration in the Renaissance for the new season. Michele also brought rock and roll vibes to the season with leather jackets, denim and fringe. Resort focused on long and sweeping gowns, metallic pantsuits and embroidered jackets. Michele's eclectic aesthetic saw silhouettes that borrowed from different eras.
From an 80's inspired bomber jacket to mutton chop sleeves, the colorful designs are opulent luxe. The color palette features rich emerald, fuchsia, sapphire red, powder pink and lilac purple. Floral patterns, plaid, stripes and natural scenes decorate the looks. For accessories, the Gucci woman wears scarves, embellished headbands, beaded sunglasses and turbans.
Tags: replica Gucci Tote Saint Laurent Shopper
comnum(0) tbcount(0) tbcount(222)
Categories:
Other Brands
Introducing the Hermes Verrou Bag. First created in 1938, the Verrou was originally designed by Robert Dumas as a clutch bag. The bag features a bolt lock which was inspired by the closure of horse stalls. It was released again in 2010, and this 2017 the brand included it in their Spring/Summer 2017 Collection. This year, the Verrou comes in three styles, Shoulder Bag, Chaine Mini, and Pochette. The bag is available in different materials such as Epsom, Doblis Calfskin, Mysore Goatskin, Ostrich and Mississippiensis Alligator.
Style, Price & Size
| Style | Price | Size |
| --- | --- | --- |
| Hermes Epsom Verrou Shoulder Bag | $8,300.00 (USD) | 8.3″ x 6.3″ x 1.6″ |
| Hermes Mysore Goatskin Verrou Chaine Bag | $8,000.00 (USD) | 7″ x 5″ 2″ |
| Hermes Doblis Calfskin Verrou Chaine Bag | $9,050.00 (USD) | |
| Hermes Mississippiensis Alligator Verrou Chaine Bag | TBD | |
| Hermes Verrou Pochette Bag | TBD | 11.4″ x 5.1″ x 1.2″ |
Gallery
Tags: bag Gucci Hermes Tote Soft Jackie VERROU
comnum(0) tbcount(0) tbcount(463)
Categories:
Louis Vuitton
For all Louis Vuitton bag lovers out there, we are pleased to be the bearer of good news as we bring to you the bigger and better version of the Louis Vuitton Twist Bag. Your favourite LV bag is now featured in a new and improved handle version.
The new Louis Vuitton Twist Bag features a folded construction, which elevates the Twist signatures into the casual elegance pedestal. Sporting an oversized and unique shape, this latest addition brings new realms of functionalities to the family. Louis Vuitton removed the chains and replaced the bag with exclusive hand-braided handles. And notice how the bag is made in black metal piece.
With its gm size and roomy interiors, this LV accessory makes an ideal day-to-office bag. It comes in genuine Epi leather for that satisfying luxurious touch as you skim your fingers through it. It also features tone-on-tone edge dyeing for an elegant touch.
Taking in mind the demands of a modern woman, it now stylishly boasts of a one braided handle for effortless hand carrying. Lastly, we couldn't take our eyes off its Signature LV twist-lock in 3D effect.
For compartments lovers, worry not for it has an inside pocket and a back zipped pocket to keep your things organized. It measures 30 x 24 x 11 (L x H x W) cm and is priced $4100 USD, €2980 euro, £2780 GBP, $34000 HKD, ¥31500 CNY, $5300 AUD, ¥480600 JPY, $5100 CAD via Louis Vuitton boutiques.
Tags: Louis Vuitton bag replica Celine Tote Tie Twist
comnum(0) tbcount(0) tbcount(216)
Categories:
Other Brands
Paint the town red this February with Balenciaga Valentine's Day Blackout City Bag. Go out on a date this Valentine's Day with this stylish bag in tow and your date would undoubtedly be impressed with your impeccable fashion style.
This Blackout City Bag from Balenciaga is not a new bag but we're seeing it in a Valentine's Day edition with its deep red color aptly fitting for the love month. In between the City and Mini City sizes, this impressive small Balenciaga leather goody might be your favorite daily companion as it can hold all your essentials.
Now let's go to the bag details in case you're thinking of purchasing this gem. This beauty right here features a laser perforated motif "I love you" a street art inspiration, which adds a touch of individuality to it and has two sizes perforation motif on front and back making it voguish.
It also features an adjustable and removable cross body strap and flat and thin handles with magnetic holding so you can easily transition it from a shoulder, cross-body, to hand carrying. For an added sense of security, this bag comes with a magnetic and zip top closure to keep your things safe and sound.
Looking inside, it has an interior zip and patch pockets. It measures 11.7" x 7" x 4.7" (W x H x D) inches and is priced $2450 USD, €1950 euro, $2290 SGD, £1545 GBP, $3770 AUD via Balenciaga boutiques.
comnum(0) tbcount(0) tbcount(221)
Categories:
Jewelry & Watches
Lupita Nyong'o stars in Tiffany & Co's fall-winter 2016 campaign
Tiffany & Co's fall-winter 2016 campaign taps stars from the world of fashion and film. American Vogue's Grace Coddington helped shaped the new advertisements with her role as creative partner for the illustrious jewelry brand. Photographed byDavid Sims, actresses Lupita Nyong'o and Elle Fanning appear alongside modelsChristy Turlington and Natalie Westling.
This marks the first Tiffany & Co. campaign to star celebrities. In each image, a black and white cropped shot is paired with a color shot. Pieces from the Victoria, T and Keys Collection are included in the advertisements.
Elle Fanning stars in Tiffany & Co's fall-winter 2016 campaign
Christy Turlington stars in Tiffany & Co's fall-winter 2016 campaign
Natalie Westling stars in Tiffany & Co's fall-winter 2016 campaign
Christy Turlington stars in Tiffany & Co's fall-winter 2016 campaign
Elle Fanning stars in Tiffany & Co's fall-winter 2016 campaign
Tags: pumps Celine Luggage Tote Valentino Phantom Rockstud this or That:
comnum(0) tbcount(0) tbcount(260)
Categories:
Other Brands
A bag that screams glamorous perfection, these are the words that best describe the newest Chanel Chevron Envelope Shoulder Bag, which comes from the latest 2016 Pre-Fall collection.
If you think you can't fall in love with another Chanel bag, think again. We know it's hard falling in love but we couldn't blame you especially if you have set your eyes on the chevron print which is the material particularly used in this bag.
The large chain is a new design, which we can say might work for this Chevron Envelope Shoulder Bag. The chains added a different touch to it, ultra glam and glitz we would say. It's beyond the chains on the boy bags, its oversized baby!
Well what more? Hmm, we are also singing praises right now as the beautiful vintage closure gave this bag a powerful punch (marries perfectly to the oversized chains). And the closure features our favorite 'Chanel Paris' logo. And yes, it's that extra vava voom that made all the efforts worth it. Say hello to the glorious days of retro-vintage with this beauty of a bag!
We do not know the style code, sizes or the prices, please check with your SA for more information.
Tags: replica Prada Tote Lux Saffiano What You See is An Not Excellent But Get!
Categories

New Posts

Hot Posts

Tag Cloud