Categories:
Fashion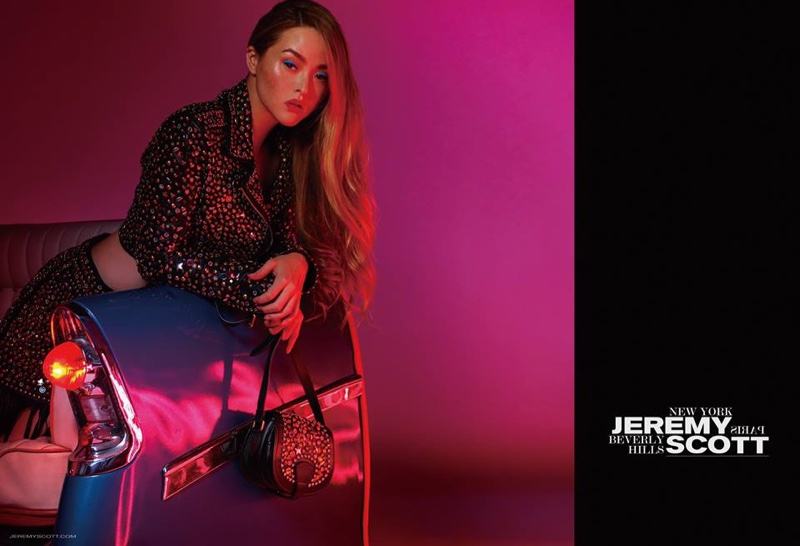 Devon Aoki stars in Jeremy Scott's fall-winter 2016 campaign
Top model Devon Aoki lands the fall-winter 2016 campaign from Jeremy Scott. According to WWD, the advertisements were photographed by Scott himself in his LA studio. Scott and Aoki have a close relationship, dating back to to Scott's third show in Paris. Just last month, the 5'5″ model closed Moschino's resort 2017 show.
The images feature neon lighting with Jeremy Scott's name emblazoned in lights. In one image, Aoki can be seen wearing an embellished moto jacket while another features her wearing a sequin adorned jacket.
DEVON AOKI – JEREMY SCOTT – FALL 2016 CAMPAIGN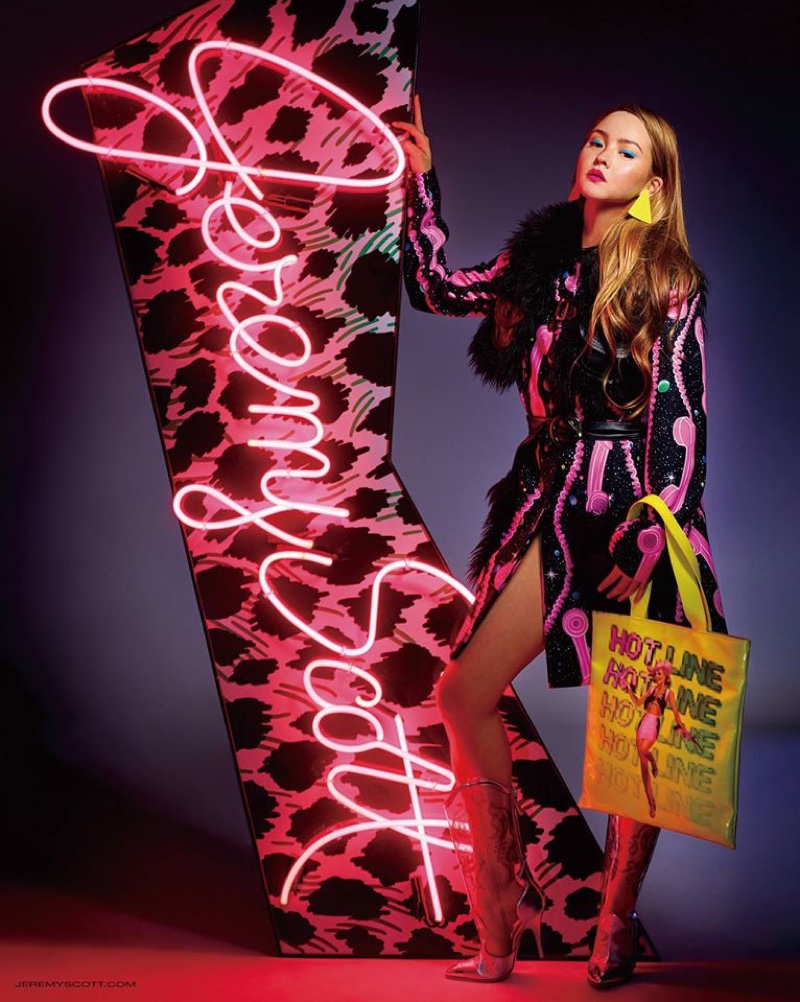 Devon Aoki flaunts some leg in Jeremy Scott's fall 2016 campaign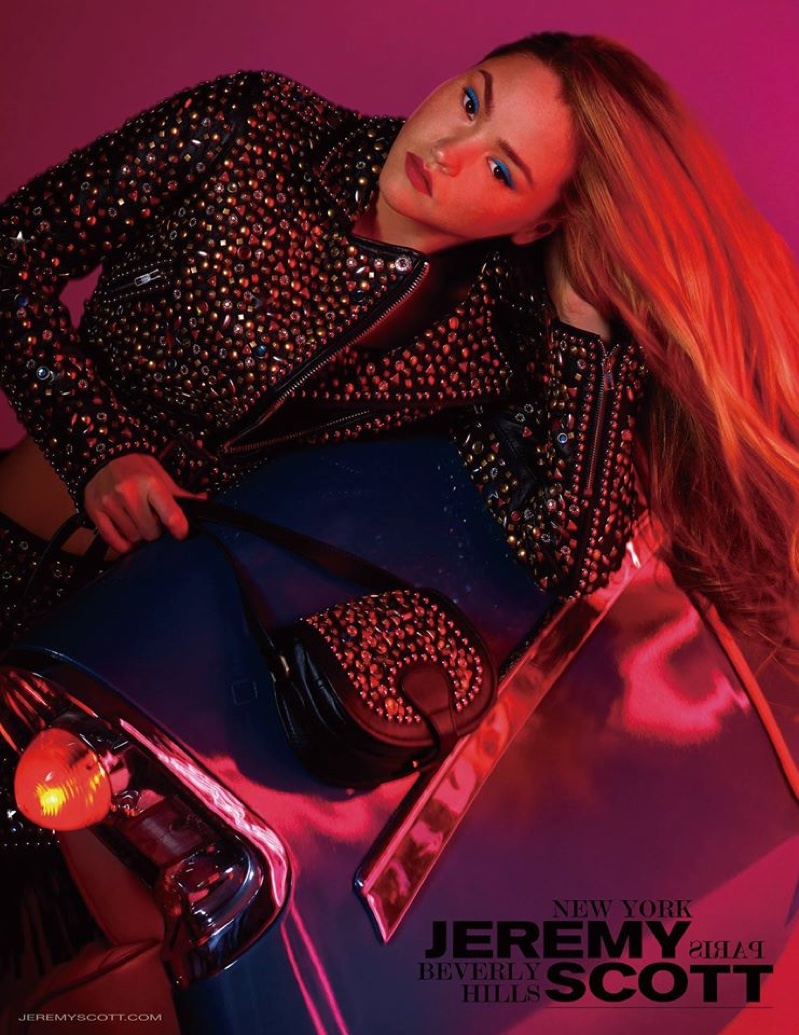 An image from Jeremy Scott's fall-winter 2016 advertising campaign
DEVON AOKI – MOSCHINO RESORT 2017 RUNWAY
JUNE 2016: Devon Aoki walks the runway at Moschino's resort 2017 show
In June, Devon Aoki hit the runway at Moschino's resort 2017 show held in Los Angeles, California. Designer Jeremy Scott featured psychedelic designs on the catwalk complete with hippie chic color combinations. From sun hats to crop tops, Devon owned the runway, especially when she closed the show.
JUNE 2016: Devon Aoki walks the runway at Moschino's resort 2017 show
Tags: bag Chanel Flap classic Studded
comnum(0) tbcount(0) tbcount(237)
Categories:
Other Brands
Ever noticed that cute little bling which is called the Lady Dior Key Ring which complete the look of the Lady Dior Bag? It's just too gorgeous to pass upon so better to take a look at it.
Contemporary in design, the Lady Dior Key is an added ornament that gives any Lady Dior Bag the accessory that it deserves. Made of silver-tone metal, its design is nonetheless feminine and original. The "Happy Chain" keyring reveals the modern feisty spirit of the Dior woman.
Just when you thought your Lady Dior bag is chic enough, think again for this Happy Chain key ring will instantly brighten and add that needed sparkle to your Dior leather bag goodie.
It measures 3.5 x 3 cm thus it's not too heavy as a key ring. Available for €380 euro or £300 GBP via Dior boutique.
Tags: LV bags fake classic a And Terrible Payment Method Con Scheme!
comnum(0) tbcount(0) tbcount(263)
Categories:
Other Brands
If you were to ask me "is buying from Yahoo Auctions a good idea?", my answer would be a big fat NO. And the reason is quite simple, it's one of those sites that is just not safe to buy from.
A reader of the blog bought a Celine Tie bag replica using this platform and trust me, there is a lot to learn from her experience!
The good thing is that luckily my friend didn't get scammed or ripped off by this seller on Yahoo Auctions. I know what you're thinking now "But isn't that how things are supposed to be?" Well, that's debatable because as happens with all these online platforms, not all sellers are equally reliable and honest. She received exactly what she ordered but her Celine replica review still raises some really important matters about buying replica handbags online.
Celine Tie Bag Replica Review
"Hi! I am so glad to find your blog but I wish I found your blog earlier!
There's a replica bag I want to share with you and would like to hear from you of how's my new bag looks like and give some comment about it ;)
I purchased a celine tie bag from a replica seller on yahoo auctions, (this is my first purchase of a replica bag and trust me if I found your blog earlier I would go to the website u recommended, maybe next time lol!) So this seller told me all his products are made by original leather and there is two different prices, based on where it's made.
(There is two different country price he said, the one made in Japan cost usd400 and the one made in Italy cost usd500, the difference between this two is the leather they use, he said the one from Italy is made by the original leather.)
To be honest, I really have no idea if all the replicas come from China or if there is some really from Japan or Italy but the price is really not cheap!
So I bought a celine tie bag replica from him and I choose the better, expensive one that he said it's made in Italy in original leather, cost almost usd500 and it deliver in almost three weeks.
I was so nervous and excited as it's my first replica purchase but also very worried like if it really looks real or if it will deliver to me as I waited way too long after I paid!
He told me normally deliver in three days after the full payment but ended up I waited for nearly three weeks.
Anyways, it finally delivered last week and I actually started using it, it came with a dust bag, box, product card and even a big shopping bag!
It is very strong leather smell, but to me as I am not an expert so I can't tell if it's a good replica so let's have a look of the images I attached!
I keep comparing the photos I saw on the Internet to see if I can find the difference between an auth and replica, I realise the replica handle is too perfect, I mean the shape is too and also it's too hard to hold!
I have seen a real one in store and that one looks softer, and also the button inside the bag doesn't work well.
This is the only two points I found the difference between a real and fake one, but overall I am okay with my purchase!"
As I told my friend, if she had found my blog earlier, I would have definitely advised against buying from a replica seller on yahoo auctions because it's too risky. But the important thing is that the bag arrived and that it looks quite nice too! Still, I'm pretty sure the bag was made in Italy even though that looks like quality leather.
The seller wasn't honest about the shipping time and I'm pretty sure that thing with Italian/Japanese quality leather was not real either but anyway this Celine Tie bag replica looks good overall. The handle tabs should be a bit wider, the handle itself looks a bit bigger and more rounded than the original and the front logo is not perfection either and the inside stamp is not centered but other than that are no obvious flaws. The fact that this replica Celine bag came with a box, a dust bag and all the rest was also a nice touch.
Has any of you girls ever bought a replica bag off Yahoo Auctions? Sharing your experience matters!
Tags: bag classic Saint Laurent Chain Bucket BABY EMMANUELLE
comnum(0) tbcount(0) tbcount(159)
Categories:
Other Brands
As promised, I will keep you updated on the best Black Friday deals of this year, for both authentic designer items and replica bags. I will dedicate this post to our favorite luxury sites. So let's see what they have planned for us this year!
It's not a secret anymore, luxury brands and retailers have started joining the Black Friday sales as well in the past years and we couldn't be happier!
Sure, even though luxury items are still expensive even when discounted, it's still great that we can buy items that are usually not accessible! I know what you are wondering right now: so when is Black Friday sale? Well, the majority of Black Friday deals take place on the 27th of November but some retailers offer early Black Friday deals or offer Black Friday deals for more than just one day.
Some of the luxury sites I've checked have already announced their Black Friday deals for 2015 even though the promotion is not live yet but I hope that others fashion retailers will follow. That's why we should keep looking for the best Black Friday deals in the next days, maybe some sites haven't been updated yet. By Monday before Thanksgiving all Black Friday deals should be on the sites.
So here are the best Black Friday deals I've found so far. If you found another Black Friday promotion that's not in the list, please leave a comment and I'll update the post!
Macy's
Macy's has already dedicated a special page on their site to the Black Friday deals. They announce "amazing savings on clothing, shoes and accessories for her and him, and must-have beauty and jewelry items" and other spectacular sales and you can check out their deals here.
Nordstrom
I'm sure that many of you will be extremely glad to hear that Nordstrom also joins Black Friday 2015 sales but a day earlier! So mark your calendar for Thursday, November 26 if you're planning to buy anything from here! Here are more details on Nordstrom's Black Friday items.
Belk
Another site that offers Black Friday purse deals is Belk.com. They offer discounts for a number of designer handbags (such as Coach and Michael Kors) but also for wallets. You can find their selected Black Friday items here.
Saks OFF 5TH
Saksoff5th.com is yet another important fashion retailer that deserves our attention these days. This site was originally conceived as a clearinghouse for Saks Fifth Avenue merchandise but this doesn't mean that you won't be able to find some really nice designer bags here! Still, keep in mind that we're talking about some of the most expensive luxury brands in the world here! So even when they're discounted they're still expensive as hell! For example, they offer a 61% discount for the Valentino Glitz Engraved Shell Clutch. Sounds great, right? Well, the original price was $3,811 and now it costs "only" $1,477…See what I mean?
Other famous sites that sell designer items also have sales at the moment, just not Black Friday sales. I don't know if they're going to announce their Black Friday 2015 sales later or if they just won't have any Black Friday deals, but we're going to find that out very soon. If you're interested in these sales, here are the sites I'm talking about:
Theoutnet.com has some really cool discounts for a list of selected designer handbags (up to 60% off for some of them). These discounts are quite impressive but the truth is that authentic designer handbags will never be as affordable as replica handbags, not even when they're discounted! Neimanmarcus.com also offers up to 40% for handbags and more and you should also check Last Call by Neiman Marcus (lastcall.com), which is the outlet branch of Neiman Marcus and is more likely to offer big discounts. They will have Black Friday deals on November 27 and the countdown has already begun:
After checking all the major luxury brands online retailers, these are the best Black Friday deals I've found so far. Now I don't know about you but I'm more interested in the Black Friday sales on replica bags because that's where the real savings are! The next post will be about Black Friday purse sales – replica edition, so stay close!
Tags: bag Chanel Flap Mini classic Red First SHOPPING with MY ELIZABETH:
comnum(0) tbcount(0) tbcount(163)
Categories:
Jewelry & Watches
Cartier D'art Watch Collection
Cartier are one of the worlds most respected and admired brands, their jewellery and time pieces are revered across the globe. Amongst their vast creations, it is difficult to pin point just one item which stands out from the crowd, but their Cartier D'art watch collection has proven to rise above its brethren and showcase some truly amazing horological designs. Each piece is painstakingly crafted to perfection, offering some of the most stunning man made constructions to adorn your wrist.
Each individual piece has a rare and exotic creature from our beloved animal kingdom emblazoned upon its face, signifying the rarity of the watch. The faces of these watches are created by expert artisans in a 300 year old converted barn, ensuring they get the utmost privacy whilst practicing their craft. Each time piece has a very unique construction of its face, entwining traditional design techniques with modern technology to create something truly special. Each watch is only available in very limited numbers and due to the handmade skills needed to fabricate these mini masterpieces, you can be sure why. Some taking up to 2 weeks to finish just a portion of the final design. The Cartier D'art collection has 9 very unique styles available, below Fashion Runwayhas showcased each for your perusal.
Rotonde De Cartier – Panther
Sporting a fantastic panther upon its face, crafted out of black enamel and 18 carat gold. The grisaille gold-paste technique is used to create the big cat, constructed using a combination of very fine brushes and needles. No fewer than 67 brilliant cut diamonds are placed along the edge of the watch case, with a further 43 smaller diamonds on the buckle of the alligator strap. Extremely limited to just 80 pieces.
Cartier D'art Ronde Louis
Featuring an 18K White Gold dial with grisaille horse decor, hand painted in striking blue and white. Outer edge of the case contains 61 diamonds and a further diamond taking the place of the watch crown. The hands are particularly beautiful in rhodiumized steel. Numbered and limited edition with just 80 created.
Rotonde De Cartier – Panther
One of the older designs in the collection, first introduced in 2013, but still commanding attention as one of the most spectacular. The gold panther face is created using the granulation technique, a very lengthy task. Cartier themselves call it "Sowing seeds of gold" 3,800 gold beads are used to create the 22K carat face. Each is a tiny cut piece of wire, rolled in a charcoal dust, flame heated and then finally fused with gold plate to give that unmistakable colour. It takes an estimated 320 hours to piece together the beads upon the watch face, and a grand total of 3,500 firings altogether. Due to its arduous creation time, this piece is limited to a very few 20 pieces.
Ronde Louis Cartier – Toucan
One of the more elaborate and colourful of the Cartier D'art collection, the Toucan designed piece from 2014 is created using the plique-à-jour enamel technique. The Toucan shape is traced and crafted using a tiny soldered gold thread. The vibrant colours are produced using a very specific method, taking enamel in its raw origin form, melted down at very high temperatures and then ground down into a powder named flux. Metallic oxides are added to the mix to create the wide variety of colourful tones. They can then be added to the toucan framework. Each of the individual 21 colours has to be fired at unique temperatures exceeding well over 800 degrees. Extremely limited to only 40 pieces.
Cartier D'art Tortue Panther Decor Mosaic Watch
A particularly beautiful designed timepiece, its face styled in the shape of a panther in a mosaic pattern akin to ancient Greek artwork. Using a combination of precious stones and onyx stones, along with a 18K pink gold dial and a breathtaking 123 brilliant cut diamonds surrounding the casing. Each of the limited 30 pieces is individually numbered.
Cartier D'art Ballon Bleu De Cartier Watch With Orchid Decor
A striking white alligator leather strap is used to hold this beautiful time piece to your wrist. 22K gold granulation laid across the 18K gold face, on top of which sits a mother of pearl design with orchid engraved decor, featuring yellow gold flower pistils coating in vibrant red enamel. Each of these flower inspired watches holds 124 diamonds upon its casing and 43 along the buckle. Only 40 of these amazing watches are available.
Ballon Bleu De Cartier – Parrot
My personal favourite of this collection, mostly in part due to how the face is crafted. With one of the most beautiful creatures of the animal kingdom as a basis for its design, the parrot. Floral marquetry is the ancient craft used, rose petals are gathered, coloured and then cut into the desired shapes, each tiny piece is then applied using very steady hands to the gold dial. 2 weeks pass before the marquetry is finalised and a grand total of 3 weeks to create the whole dial. Black enamel is used for the parrots beak and an additional emerald for its eye. Its case is 18 carat rhodium white gold and a total of 118 brilliant cut diamonds. Very few of these are available, only 20 produced.
Ronde Louis Cartier – Two Panthers
With their continuing obsession of using panthers, they have upped the ante by using 2 of the jungles big cats on this watch. Filigree craftsmanship is the special technique used in this instance. The blending of 950 platinum wire and 22k gold wire together which is shaped, styled and hammered in the shape of the two panthers and finally soldered together. This alone takes a minimum of 10 days. An application of lacquer and emeralds finish the beautiful face work. Setting off the design is a blue alligator strap containing 43 diamonds on the buckle, along with the 58 diamonds adorning the face. Very limited numbers, with just 20 due to be crafted.
Cartier D'art Watch – Panther
Finally we have the last watch in the collection, a stunning finale to the line up of Cartier D'art time pieces. This stunning watch boasts a 22k gold dial, the face of which has been hand crafted using enamel and etruscan granulation mixed with spangled blue lacquer to create the panther design. The crown on this watch has the unique addition with its cabochon sapphire in a fluted shape. A shiny blue alligator strap finishes the beautiful design, again featuring the signature 43 diamonds on the buckle, alongside the 124 around the casing, totalling 1.80 Carats.
Tags: bag Celine classic Box Exotic
comnum(0) tbcount(0) tbcount(190)
Categories:
Other Brands
If you use any social media or were otherwise connected to the Internet in even a tenuous way this weekend, then you already know that the annual celebrity weenie roast that is Coachella took place this weekend. Therein, all of the prettiest starlets from Kendall Jenner to Bella Thorne put on outfits simultaneously flowing and skimpy to...well, honestly, I don't know what they do at Coachella.
The event contained its fair share of paparazzi, though, which means we were able to spot some choice bag selections hanging from their bare shoulders. Check out the best of the best below.
1 / 9
ALESSANDRA AMBROSIO
CHLOÉ DREW BAG

It used to be that Vanessa Hudgens was the patron saint of celebrities at Coachella, but now it's starting to seem like Alessandra has usurped her.
2 / 9
ALESSANDRA AMBROSIO
CHLOÉ HUDSON BAG

An arsenal of Chloé bags has been instrumental in her ascent.
3 / 9
BELLA THORNE
VANS LINDON FANNY PACK

Bella Thorne, in spite of her usual addiction to Chanel, has made the most practical Coachella bag choice of all our celebs: an inexpensive, hands-free belt bag.
4 / 9
JAMIE CHUNG
CHLOÉ HUDSON BAG

Chloé is an obvious choice for a wealthy, beautiful Coachella attendee: the brand makes the industry's quintessential rich hippie clothes.
5 / 9
JAMIE CHUNG
TAMARA MELLON ELIXIR GROMMET BUCKET BAG

Perhaps the biggest takeaway from Alessandra and Jamie's picks, though, is that multiple handbag options for a three-day outdoor music festival are important when you're famous.
6 / 9
KENDALL JENNER
SAINT LAURENT ANITA TOY FRINGE BAG

I'm pretty sure the choice of this bag was completely ornamental, because I don't think it's big enough to hold even a phone.
7 / 9
SOFIA RICHIE
ANYA HINDMARCH EYES BACKPACK

Credit where credit is due: a little backpack is a pretty good festival pick. Why is it the youngsters who are most practical?
8 / 9
JANELL SHIRTCLIFF
SAINT LAURENT STUDDED MONOGRAMME BAG

Janell attracted the attention of paparazzi because she's dating Zach Braff, but she's an accomplished fashion photographer in her own right.
9 / 9
ZOË KRAVITZ
ALEXANDER WANG MINI ROGUE BAG

Of all the celebs we spotted, Zoë appeared to be the one trying to have the most low-key Coachella experience.
Tags: bag Chanel Tote classic TIMELESS
Categories

New Posts

Hot Posts

Tag Cloud